StealthNetwork Communications® Introduces the StealthMatrix ARC™, Retail Inventory Tech Marking a New Beginning in Inventory Management
Bringing Gaming Tech to Retailers for Customer-Friendly Inventory Management Solutions
Precise Item Store Locator Uses Augmented Reality, Helping to Find Items Quickly
StealthNetwork Communications® has announced the launch of StealthMatrix, a next generation sensory-based, item-level tracking system that locates merchandise in a department store or warehouse within one foot, using IoT sensor technology and 2D mapping.  Already destined for a major national retailer, it bridges the gap between retail stores and omni-channel e-commerce operations.  StealthMatrix ARC™ is compatible with Android and Apple (iOS) smartphones for use by customers, sales associates and store operations.  The product suite includes an all-encompassing IoT sensor device with indoor location application software and way-finding capabilities, to pinpoint the exact location of each individual piece of merchandise.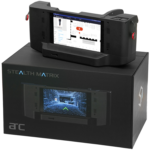 Using augmented reality to guide sales, store operations and customers, StealthMatrix is unique in that it does not require additional IoT sensors, or specially installed hardware, creating low entry and operating costs.  It will enhance the customer experience while eliminating lost sales precipitated by a customer's inability to find that "special pair of jeans" that may be somewhere in a store, but not in its proper place.  StealthMatrix provides retailers the opportunity to reorient and maximize their retail space into local fulfillment centers.
"Now you can truly leverage your omni-channel from supply chain through e-commerce to utilize brick-and-mortar stores as distribution and fulfillment centers," said Margaret Nyswonger, President and CEO of StealthNetwork Communications®.
"Additionally, with this technology, customers will no longer arrive at a store only to discover that an item shown online to be in stock, is nowhere to be found! Our technology locates that single item even if it's tucked away under a counter, saving a great deal of aggravation and potentially driving people back to stores, as they are now confident in the store's inventory."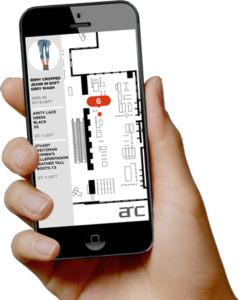 "What we're introducing is truly game-changing for the retail industry, something that will drive the next generation of retail inventory locating," said Nyswonger. "The time, effort and cost saved by retailers will be substantial.  It is ready for the market and can be deployed in minutes at a store already using RFID tech."
"From the sales management side, all team members (Senior Executives to associate) will have a virtual single pane view of each inventory item from anywhere in the world," she said.
Key Benefits
100% mobile, cloud-based, lays directly over existing infrastructure; no software changes needed.
Proven results – 67% increase in efficiency; documentation provided upon request.
A 20X return for every dollar spent.
A complete inventory solution from locating your products, mapping your location to finding items.
$2 per square foot less expensive than its closest competitor.
How it Works
StealthMatrix operates with patent pending algorithms and industry-specific hardware to help clients create 2D on-demand floor maps, locate merchandise with Internet of Things (IoT) sensors, generates augmented reality workflow processes and conceptual environments, without expensive build-out.  The ARC™ is an IoT sensor-based hardware and software prosumer device, modularized and flexible to fit each client's dynamic environment.  It supports both internal operations and customer-facing mobile applications.
The product suite is transferable to StealthMatrix autonomous mobile devices so retailers may aid sales teams in the actual retrieving and packing of items, "a pick and pack mobile device."
About StealthNetwork Communications®, Inc.
StealthMatrix, previously a division of StealthNetwork Communications®, Inc., was spun as a separate operating group in 2017 to focus solely on the IoT sensor market and to address the big box retail marketplace.  Formed specifically to develop a low-cost, mobile prosumer device to leverage current IoT inventory solutions.  Proactively realizing earlier on that IoT tech in apparel retail was cost-prohibitive and needed to have new standards created in the marketplace,  StealthMatrix incorporated developments in gaming technology, indoor location and AI capabilities, to produce the StealthMatrix ARC™.  StealthNetwork Communications, Inc.® (Stealth), long a leader in IoT Sensors, RFID technology, delivers integrated tech solutions to commercial as well as federal and state agencies.  The company assesses a client's requirements and provides support, from consulting services to complete turnkey solutions that it defines, designs, delivers, from start to finish.
###
StealthMatrix bridges the gap between brick-and-mortar and e‑commerce operations, using cutting edge tech, minus the heavy investment or major build out.
© 2018 STEALTHNETWORK COMMUNICATIONS, INC. 
All rights reserved.
California:
3350 Scott Blvd., Building 47
Santa Clara, CA 94054
New York:
135 East 57th Street, Floor 16
New York, NY 10022
Phone: (925) 846-7018